Copied from ACNZ's Post:
http://z4.invisionfree.com/lexusaltezza ... topic=8698
After the constant enquires for the Znoelli Discs I have rang the supplier and got current prices. Prices have gone up a little but still very affordable.
Need atleast 3 pairs to get it going!
Orders/money needs to be in by 9th July
This is most likely the VERY LAST GB I'm able to do as my contact is leaving for the UK on the 23rd July so get in while you can!!!
I can do Paypal for these
So here are the options he can get:
S6 Sports Disc Rotors
- These are directionally slotted (grooved) to provide benefits such as reduced brake fade through pad de-gassing, increased wet performance through the dissipation of water, mud & dirt, improved pedal feel through increased pad bite, improved rotor life through pad deglazing and of course they look more purposeful behind alloy wheels.
Part Number = ZR42.032.02
DDS Sports Disc Rotors
- These utilise a curved wide slot to provide all the advantages outlined above. The wide slot draws cool air across the face of the pad allowing cooler running and the dimple drilled areas further break down gases. They also provide a great look but without the risk of rotor cracking that can sometimes be associated with cross drilled discs.
Part Number = ZR42.032.DDS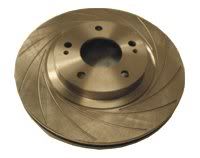 S12 Sports Disc Rotors
- These brake discs are designed with the track day enthusiast in mind. Utilising 12 curved slots and TTP technology, S12's offer excellent performance with good pad bite and provide you with the ability to monitor your disc temperatures.
Part Number = ZR42.032.S12
Prices:
Fronts:
S6 - $400NZD per pair (including gst)
DDS - $450NZD per pair (including gst)
S12 - $450NZD per pair (including gst)
Rears:
S6 - $425NZD per pair (including gst)
S12 - $475NZD per pair (including gst)
DDS - $475NZD per pair (including gst)
Shipping to Ireland = $290NZD (3-7 working days, track and traced)
So as a rough indication of prices (in Euro)
Front S6 delivered = 315 Euro
Front and rear S6 Delivered = 510 Euro
Info:
What's a "Slotted Disc Rotor"?

A slotted disc rotor is a high performance product that has a number of grooves (slots) to both the front and the back of the disc rotor.

Why is there a left and right rotor?

Slotted rotors by design are directional and this means there is a left and right rotor which must be fitted as such. Think about tyres for a moment. Many high performance tyres are directionally designed because you spend most of your time driving your car forwards not backwards. So it makes sense for the tread pattern on high performance tyres to be designed optimally for that direction. Similarly our slotted rotors are also designed for that forward direction.

What do the slots do?

They reduce brake fade -

Brakes get hot, the more you use them the greater the heat. Brake fade occurs when the heat causes some of the bonding agents to fume or produce gas. This gas on a standard rotor, creates a cushion between the pad and the rotor. As a result your ability to stop is massively reduced. The slots are very efficient at removing that gas and thereby maintaining braking ability.

They increase pad bite

The slots have sharp edges that increase the pads ability to grip the disc. This helps the vehicle stop faster.

They de-glaze the pads

The sharp edges of the slots "shave" the face of the disc pad. This means that there is alway "fresh" pad in contact with the disc.

They help pads wear evenly

The shaving action helps the disc pads to wear more evenly which means that there is more effective pad area available to stop the vehicle.

They increase rotor life

As a result of the pads wearing more evenly, the rotors also wear evenly which extends their useful life.

They dissipate unwanted contaminants

Water, mud, dust and dirt are all expelled from the disc rotor surface which is especially reassuring in adverse driving conditions.
Post up if your keen!
Interested:
1) xnickx - Rears S6 x 2
PAID $425NZD
2)
3)