Ok so I'm after coming to the realisation that I'll never get
time to build my Altezza the way I had planned so selling
off my parts.
-Full genuine engine gasket and seal kit including full
timing belt kit, front and rear crank oil seals, oil pump,
Water pump, valve stem oil seals and head bolts.
-CP forged Pistons
Piston specs:
8.5:1 Compression ratio
0.5MM oversized
Designed for oversized valves and high lift camshafts.
Forged from high strength 2618 Alloy
Super lightweight designs
Fully CNC machined and balanced to within 1 gram
Wrist pins included at no extra cost
Double pin oilers, force fed from oil ring
Pick lock grooves for easy lock removal
-Forged Eagle Con Rods:
Eagle ESP H-Beam Connecting Rods
Forged from 4340 steel and utilize 3/8" ARP2000 bolts with alignment sleeves for a perfect fit.
Packaged in weight-matched sets (+/- 1g).
Rated up to 900HP
-Also included are ACL race big and main end bearings.
Pistons are for 3SGE Altezza engine (won't suit any other 3SGE)
Custom made off an Altezza piston to suit the Eagle ESP 3SGTE H-Beam rods.
It will only let me upload one picture.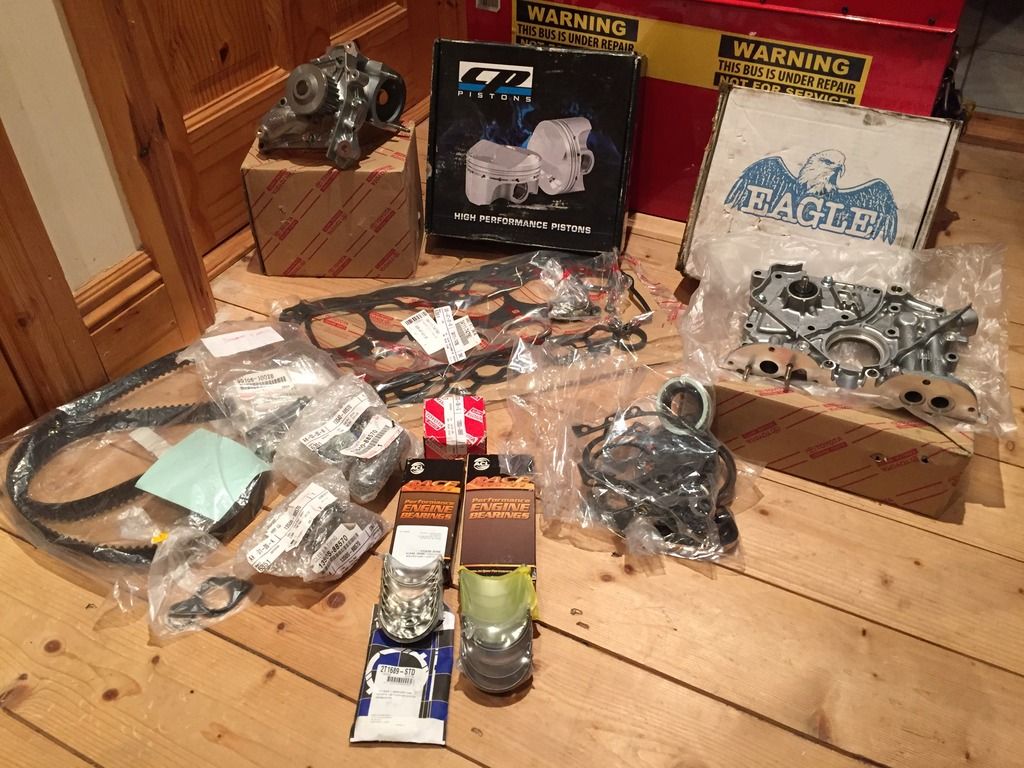 ++€2000 for everything. Postage or any other costs at
buyers expense. Parts are located near Fermoy, Co. Cork, Ireland.
I could meet someone with the parts somewhere if they wanted as
I'd prefer not to have to post anything. I am open to part exchange or swap
For a rwd. non turbo S body or R body or drift spec e36 or mx5 for example.
-I also have two engines (in parts) 1 good head,1 head that has marks on the combustion part around the valves on 2 cylinders could possibly be fixed I'm not sure, 2 good crankshafts, 1 good block, 1 block good for boring out to fit the forged Pistons, 1 fuel rail, standard injectors.
Open to offers on these parts.